Requirements
Steps:
Log in to your BrewPOS Admin Back Office
Go to the More tab
Go to the Accounts tab
To edit an existing account balances double click on the account, To add a new account click on the New icon in the toolbar
These accounts are also the customer records you see in the POS front of house
Active – button will make the account active
Choose Trade Account by double clicking on the Underlined Text.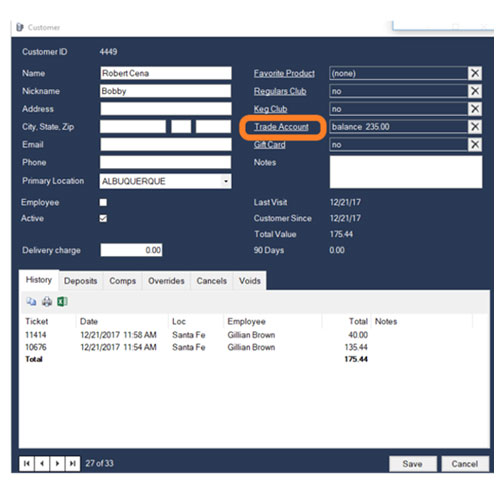 Beginning Amount – Sets your starting balance
Remaining – is the amount left, also allows you to adjust the remaining manually
Allow negative, this allows an account to be used past a 0 balance
Add monthly – automatically adds a balance equal to the amount on the first of the month
Front Of House Account Management
Open an account with a customer record or add a customer record to an open ticket.
Checking balance
Once a customer record is on a ticket, you can touch the customer name to check the account balance.
Paying with Account
Once a customer record is on a ticket, you can chose the other payment a tab and select trade account